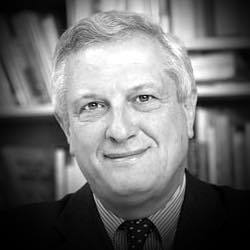 TRANSATLANTIC TRUMP
How "America First" Turns Into "America Last"JOSEF JOFFE
In an unprecedented challenge to the U.S., Germany's foreign minister proposes "Europe first" and making nice with Putin's Russia.
In the first year of Donald Trump, Amerikakritik, a pseudo-academic euphemism for anti-Americanism, has finally made it into the Duden, the German version of the OED. Of course, there is no such thing as anti-Americanism in polite German society; "we are just against this or that U.S. policy/president," runs the standard disclaimer. In the official German discourse, the disparagement of America-as-such has remained coded and couched in professions of trans-Atlantic fealty.
Time-honored politesse was yesterday. This week when Chancellor Merkel's foreign minister, the Social Democrat Sigmar Gabriel, turned a startling new page. In a speech entitled "Europe in an Uneasy World," he first affirmed the orthodoxy: yes, the United States remains "Germany's most important global partner," and "we will need and sustain this partnership in the future, as well."
But then, the tonality turned and the silk gloves of diplomacy came off, marking a watershed moment. For ages, European and German resentment has always targeted American dominance and arrogance: "Dirty Harry" as "Globocop." This time, Gabriel pounced for the opposite reason. As of this year, he decreed, "we have been witnessing a weakened willingness or ability to project and shape [the global] order." Is it "intentional retraction or waning power?" asked Germany's diplomat-in-chief. It doesn't matter—a vacuum is a vacuum, and "whenever somebody leaves the room, somebody else will enter."
Overbearance, it seems, has yielded to underperformance. With Trumpist America pulling back, Gabriel claimed, the U.S. was shedding its "role as reliable guarantor" of the liberal order. So far, so half-correct, given that Trump is hardly withdrawing from the world, but is, in fact, reversing the retrenchment of the Obama Administration. Gabriel was right, though, in faulting Trump for dismantling America's ancient multilateralist tradition (which, as I've argued before, is not such a bright idea).
In this new dispensation, Trump offers a lot more "Dirty Harry" and a lot less "Globocop." This role reversal, according to Gabriel, should prompt Germany and Europe to reconsider their old allegiances, assert "their own interests," and take matters into their own hands. This logic cannot be gainsaid. Others will move in if the U.S. checks out.
Alas, the cold-eyed analysis came with a baleful undertone. We are facing, the foreign minister growled, "the surrender to American policy, something we have never experienced in the past." The message read like Gabriel's very own Emancipation Proclamation from American slavery.
As Anna Sauerbrey, a columnist at the Berlin-based Tagesspiegel, asked: "Emancipation from what?" This German victim of American hauteur may have bowed and scraped during the Cold War, when keeping America's strategic umbrella in place defined the supreme national interest. But after the demise of the Soviet Union, strategic dependence fell, and with it the price Berlin was willing to pay for American protection. To wit: A reunited Germany refused to join George W. Bush's war against Saddam's Iraq. Under Obama, it did not fly along with NATO's bombers going after Qaddafi's Libya. It is not cutting diplomatic ties with Pyongyang, just reducing them.  Some slavery.
How to emancipate Berlin from Big Brother today, then? Not to put too fine a point on it: by cozying up to Russia, Big Brother next door. Putin may be a bad guy—expansionist and anti-Western, Gabriel intimated—but Russia is "Europe's neighbor," and "a very influential one, to boot." This said, Gabriel, followed up with an old Social Democratic mantra going back to Willy Brandt's New Ostpolitik of the 1970s: "Security and stability can be had only with, and not  against, Russia."
None of this amused most of the Western diplomats listening to Gabriel's Berlin peroration. Why now take swipes against Chancellor Merkel, who insists on beefing up the German military and keeping the Russia sanctions in place?
Naturally, Gabriel was also addressing his comrades in the SPD. After the party's disaster in the September elections, the Social Democrats have been moving to the left, bridling against rearmament and hankering for détente with Moscow. As the SPD mulls yet another grand coalition with Angela Merkel, Gabriel went for a "twofer", invoking German-European nationalism as a counter to the U.S. might, while still presenting himself to his peace-minded SPD colleagues as guardian of the proper faith. Read his speech as a job application submitted to the party congress: please nominate me for four more years at the head of the Foreign Office.
Honi soit qui mal y pense, quip the French—shame on him who thinks ill of it. All foreign policy begins at home. But in terms of grand strategy, Gabriel struck yet another blow with this pitch for Moscow. Merkel, the once and future chancellor, wants to hold on to Russia sanctions. Gabriel was softly signaling acceptance of Vladimir Putin's indirect conquest of southeast Ukraine with the help of local surrogates. He proposed loosening the sanctions should Moscow agree to a ceasefire. But ceasefires freeze the status quo, which in this case would allow Putin to consolidate his gains. So listen up, Mr. Trump, Gabriel hinted: if we are caught between a shrinking America and a resurgent Russia, we will have to make nice to the Kremlin next door.
Who is this "we" Gabriel is alluding to? The European Union, of course, and its new savior, Emmanuel Macron of France. Forget Angela, the previous empress of Europe. Unfortunately for Gabriel, this is all pie-in-the-sky thinking. Monsieur Macron will not lead the EU into an anti-American alliance. Just look at the pomp and circumstances he bestowed on Donald Trump when he welcomed him to Paris on Bastille Day. Nor will Germany, the world's fourth-largest economy and Europe's most populous nation at the center of the Continent, tag along behind France. Finally, for all its fabulous riches, the EU will not magically gestate into a strategic actor—and certainly not with Herr Gabriel's butter-instead-of guns Social Democrats.
For Washington, there is a still larger point to ponder. While the U.S. in its glory days was living up to its global responsibilities, no European, not even Sigmar Gabriel, would have unloosed such a broadside against the vaunted "leader of the free world." Think Spider-Man. As he lay dying, Uncle Ben famously told his superhero nephew: "With great power comes great responsibility." The dictum works in reverse, too: If you shirk responsibility, your power dwindles.
That is the central problem of Trumpism. Leave aside the subtext of Amerikakritikin Gabriel's unparalleled challenge to the U.S. and stick to the gist of his analysis. It whispers: If you want to influence, you must take care of friends and allies; don't clobber them with "America first." Power, Peter Parker muses in Spider-Man, is "my gift" and "my curse." Shed the curse, and you'll lose the gift.
Published on: December 8, 2017
Josef Joffe is co-editor of the German weekly Die Zeit, member of TAI's Executive Committee and a fellow at Stanford's Hoover Institution.
We are a participant in the Amazon Services LLC Associates Program, an affiliate advertising program designed to provide a means for us to earn fees by linking to Amazon.com and affiliated sites.